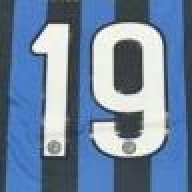 La Grande Inter
La Grande Inter
Joined

Feb 3, 2009
Messages

13,085
Likes

4,424
Favorite Player

Zanetti


10 years of FIF

Transfer Guru
Zaniolo has shown much more than Tonali in Serie A. But like said, Zaniolo's problem is his ACL injury. Worst time to sell the player with ACL + COVID19.
Agree, I was factoring that in.
I find it hard to believe we are interested in a player that doesn't fit Conte formation.
The only rationale could be if Conte is considering using his Chelsea style 3-4-3 at Inter. Which means using Lautaro/Zaniolo & Eriksen/Sensi behind Lukaku. Zaniolo is young and Italian, and if he can be bought at a reasonable price (due to the 15% discount + Nainggolan, a player that Inter consider surplus), that could explain this a little bit.
Even then, I would prefer a support striker or inverted winger who scores more regularly than Zaniolo. I really doubt there is any truth in this rumour.
On a different note, if we end up with Barella, Sensi, Bastoni, Tonali, Zaniolo and Chiesa, Mancini will have to attend all our games.