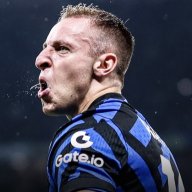 Joined

Jan 27, 2009
Messages

27,256
Likes

8,566



Forum Supporter

10 years of FIF

Best Overall Poster

Most Humorous Member

FIF Special Ones
I don't really like talking about future keepers. It's not out of sentiment, but due to the fact that Handanovic still remains, easily, one of the best keepers in the world, and talk of replacing him is premature. Essentially, by the time Handanovic retires, which will be at the end of next season at the absolute earliest, we don't know what the market will be like. We don't know what talents will have emerged or plateaued.

That said, from all the names that have come up here and there, I'm most impressed by Musso. I think he's better than Meret or Strakosha, and certainly levels above Cragno or Gollini.

From what I've seen of Radu, I don't know if he has what it takes to be an elite keeper. I'm not saying he won't, just that it's too early. Radu reminds me a little bit of Donnarumma to an extent: they both have great reflexes and leaping ability, but are both let down by occasional poor positioning and a weakness with their feet.

Personally I'll be keeping a closer eye on Musso moving forward. But I suspect Handanovic will be around for minimum 2 or 3 years longer, which is fine by me.