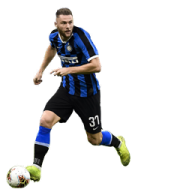 Joined

Feb 5, 2016
Messages

9,634
Likes

2,531
Favorite Player

Sheik Salman
Old username

EEeyOO


What does that have to do with anything?

Compare all you want.

Chelsea would have loved to have Handanovic, Liverpool and City are good.
Bundesliga? Really? Apart from Neuer, who else is better than Handa there?
Serie A, Musso and Donnarumma were the only ones around this level.
I'll give you La Liga's case, but that still doesn't mean that Handanovic is inferior to Courtois.

The interest is slim on Handa because he's old and it's unknown if he will be at this level for 1 or 2 or 5 seasons. It's also a concern for us. Truth is that a few Serie A teams and others inquired about him but I think he's leaning to stay on, despite the salary reduction.

Saying he's not one of the top goalkeepers is straight saying shit that's invalid...
Because calling Handanovic a top keeper and then wanting to compare him with 20 others is fucking stupid. If you want to compare him with top keepers then don't compare him with keepers that play for mid table teams to prove your point.
FYI, I also think Handanovic is a top keeper but your way of proving it is meh. If you call him a top 15 keeper then he is not a great keeper anymore.