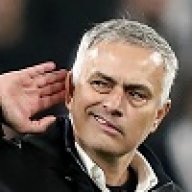 might be Deadpool
La Grande Inter
Joined

Mar 28, 2011
Messages

26,235
Likes

3,541
Favorite Player

Bea Arthur


10 years of FIF

Most Diverse Poster
Not his fault Barella has a leg shaking orgasm anytime a chance falls to him in the box.
That is so unfair to Barella. He has shown before he is able to score in the box (goal against Juve for example). He might not be Messi as far technique goes, but the posts about his shooting are going beyond ridiculous now.
It's not like Barella is a scrub like Kuzmanović. It was a crazy derby with counter-attacks left and right and both teams can say they are lucky they didn't lose. It's hard to run like that all over the pitch when most of the other games in Serie A are a lot more subdued. Since I don't believe any of our midfielders are world class, how we are playing is good and Barella is important for us.
:leaveBarellaAloneMeme: