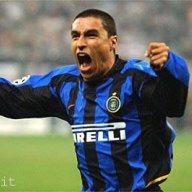 Joined

Mar 7, 2004
Messages

32,072
Likes

8,420
Favorite Player

Bar, Skr, Bas



10 years of FIF
I agree, just like in 2016, 2018 and now in 2020, we are in a position to aim for the Scudetto. This is the first time we have the resources to do that but I'm afraid we've already spent over our limit so we must hope that we receive 100m from Icardi and Barbosa in winter in order to do just that. I don't think it will happen as PSG has no reason to pull the trigger now and I'm not sure we can sell Barbosa for more than 25m but one can hope.

I haven't even bothered with our winter mercato strategy yet but I can easily predict it if our sales department is dry. Try to get a couple of players on a dry loan (Vidal or Rakitic) which will take all January long, go for someone like Giroud and give him a deal until 2022 and then probably make a harmless panic move or just do nothing.
That sounds horrible, because we really need to go for it now. Do some another shady sponsorships in China or whatever the fuck you do Suning but just provide us the funds. Nothing would be bigger than winning a Scudetto from Juve.
And even if our attempt failed the investments wouldn't be for nothing, only that we would pay small premium for doing business in the middle of the season.