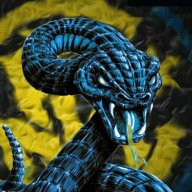 Joined

Apr 22, 2005
Messages

7,419
Likes

4,200


10 years of FIF
I agree Dzeko is a huge problem but under Conte we never had a 4-5 game slide like what we're having now in Serie A. We always rebounded and when we had a chance to put our foot on competitors necks we did.
When we're about to compare two coaches we should also compare the elements they had at their disposal. I don't know why people keep ignoring that and go on making judgments like: "that would have never happened under that guy"!!
Coaches don't play this game. They have certain influences and the rest is down to the players they have, the match incidents, the refs decisions, injuries and fatigue and etc...
Conte also made many controversial and questionable decisions despite having a better squad. His team was dreadful to watch but we made the most out of the few chances we made under him to win matches; unlike this season where we create more but convert less. And I believe getting an early elimination in the group stage of CL also helped Conte a lot to win the Scudetto last season.
But people keep coming up here once in a while saying the size of his mouth was the difference maker compare to Inzaghi! We have to consider many options when we're about to compare these two and not just how loud they could shout. You can't make footballers younger and better by just shouting at them. He had 3 influential players that are no longer here. Had he still played Gagliardini and Young ahead of Eriksen and Perisic I'm not even sure we could win the title last season.
We can keep on saying this coach is better than that one, but we can't neglect a crucial fact about how
the players
play the part in helping these coaches to win matches and titles. We had several chances to score last night but the likes of Dzeko and Dimarco ruined them. Imagine we had Lukaku and Hakimi instead of them. Then people were going to hail Inzaghi and his GREAT setup and decisions in turning the match around!
Coaches make a difference for sure, but it's the players who play the game. We had a meltdown in our treble season too, losing a big lead to AS Roma and it was tnx to their loss to Sampdoria that we took the first place back. This data for example say the coaches' influences are far less than many people assume:
Football managers make less difference than many people think
www.economist.com
Last edited: