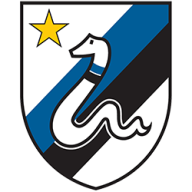 La Grande Inter
La Grande Inter
Joined

Jan 17, 2005
Messages

33,185
Likes

15,124


10 years of FIF

Nostradamus

Most Passionate Member
What team? With Barella from Cagliari, Bastoni from Parma? With Handanovic? With Lukaku who just joined from another league who you said will flop in serie A? With all the toxic players he inherited from Spalletti? Did players have the experience in CL, they have now? Yes you are crazy and silly to ignore such factors.
Handanovic was named in the team of the week twice or something, but sure, let's pretend it's cool to hate on the guy because some idiots.
Barella was class from the first minute.
Bastoni wasn't featuring in the CL iirc in his first year. It was Skriniar De Vrij and Godin and everyone called it the best defensive trio in the world.
Which toxic players did he inherit from Spalletti that were used? Brozovic, Handanovic, de Vrij, Candreva, Lautaro... all were vital for Conte, no?
We don't have any player with Sensi's impact of that first few months. Or Sanchez's.
You realize that we now have a worsesquad than 2018-19 (which should have qualified if UEFA didn't push Tottenham in the PSV and Barcelona game and if we didn't choke vs PSV ourselves)
Your only argument is that some players grew and matured but that's hardly more than a couple of them. The rest of the team is different. Barella, Bastoni and Lautaro, yet both Lautaro and Barella haven't shown much evidence of growth (red card vs Real for Barella missing Liverpool, Lautaro not improving his focus). So decide in your head what happened please...
Inzaghi got us out of the CL group twice in two years, each time with a tougher group than what Conte got. That was the minimum requirement for that team and he failed. At least Spalletti had the excuse of Pot 4, and people don't realize how good that PSV team actually was.
And each year we say that the team gets worse and worse.
Unbelievable how people make up excuses for Conte not achieving the bare minimum in Europe.