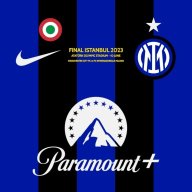 Joined

Mar 9, 2004
Messages

3,955
Likes

500


10 years of FIF
Brehme, sometimes I wish I could give some of your posts a thumbs down.

I do not know if you have anyone at home (wife/children) but i sincerely hope you are not as hard on your family (or yourself) as you are on Marotta because of his Juventus past.

I would love, for once to see you post something positive as opposed to spreading negativity and pessimism everywhere you go.

Can i just ask, is there anything that makes you happy? For example, do you ever go to the "zaxaroplasteio" see something that you like and smile? Or do you ever read a news article or see a photograph and think "That's awesome!"

Rather than focusing on 2019, why can't you compliment the guy for what he acheived this summer with limited funds?

The glass is always half empty.

Sometimes, coming on here gets me down.
Last edited: