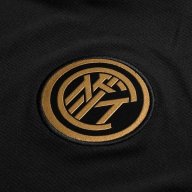 Joined

Dec 23, 2014
Messages

8,173
Likes

7,445


Forum Supporter

Most Improved Member
Yeah I don't agree. I think that results of the first team are also important for Barcelona, Manchester City, Liverpool, Manchester United, Bayern Munich, etc. In fact many of those teams have comfortably outperformed Inter. Yet all those teams have managed to give opportunities to academy graduates in recent years.

We are not the norm. Nor is the level of this league higher than any of the leagues those teams play in. Italian youth teams compete just fine at their level, yet somehow our kids aren't ready to play with adults but theirs are? Nope sorry not buying that. It's a mentality issue, always has been and always will be.
It would be nice to develop him, but now i don't see where he'll play, even as substitute. For me it's better to go on loan somewhere and get experience. Also, he could be evaluated by the management and eventually to get a rotational place in the team next season, but Zangs are ready to sell everybody if get a decent offer.