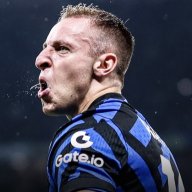 Joined

Jan 27, 2009
Messages

27,256
Likes

8,566



Forum Supporter

10 years of FIF

Best Overall Poster

Most Humorous Member

FIF Special Ones
Such a shame we had to leg Banega go for stupid FFP reasons... He'd be a needed asset in this fucked up list.

I'd also welcome Jovetic back if he was included in a fairytale Joao Mario bid from Monaco. Would feel much more calm. Also a shame that we have no prodigy to play in the middle(or anywhere) from the B list. This is also a reason why I wanted us to get Benassi from Torino last year, he'd be a decent club grown player who can give us solutions.

Still weighing whether the Settlement Agreement fucks us more with the $ side or the disability to add 25 players.
Benassi isn't club trained.