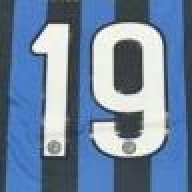 La Grande Inter
La Grande Inter
Joined

Feb 3, 2009
Messages

12,164
Likes

865
Favorite Player

Zanetti


10 years of FIF

Most Optimistic Member

Transfer Guru
I read some posts here claiming that after spending so much this summer, its either CL qualification or bust for Inter. Is that really true? In this analysis, I will be exploring that largely from a financial (FFP) point of view focusing on (approximate) sporting costs which are the reason people claim its CL or Bust.
FFP Situation
Last year, Inter we penalised for not meeting FFP criteria. Inter and UEFA agreed a strict loss reduction plan, and if Inter meet those financial objectives then the rest of the penalty will be waived off. If Inter fail to meet them, then we will be penalised another €14m. Now that UEFA is easing off FFP, it is very likely that this penalty is Inter's worst case scenario i.e. our failure to meet FFP will come at a cost of €14m for Thohir. That will not kill this club, Thohir has invested far bigger sums to be scared by €14m. So its not really "bust".
But for the sake of this argument, lets assume that Inter intends to honour FFP. All signs indicate that Thohir is serious about not paying this penalty. UEFA's targets for Inter include reducing our losses to €30m in 2015-16 (if we meet just this, we avoid the penalty), and a further reduction in 2016-17 (to €15m). Now the previous year's (2014-15) P&L results are not publicly available yet, but most rumours indicate that Inter's losses were to the tune of €50-60m. I will assume a loss of €55m as a starting point for this analysis.
Impact of this summer
I my previous article I looked at
the Cost of Revolution at Inter: Summer of 2015
. I will not repeat that analysis here, just to summarise the financial impact of our Mercato:
- Additional P&L Impact 2015 = profit of €27m
- Additional P&L Impact 2016 = 0 (the transfer costs next summer are balanced off by the reduced loan fees)
This means that we have reduced our losses by 27m from last year just because of our summer's business, and in 2016 we will have similar losses to this year (if you look the impact of the mercato in isolation).
Other costs not related to this mercato
Costs like the contract renewals for Icardi and potentially Handanovic. We tripled Icardi's wages, which will now cost us about €5m more per annum. Handanovic will probably cost us €2m more as well. That is €7m more in 2015-16.
Next summer the contracts of Vidic, Nagatomo and Palacio will be over, which will reduce our wage bill by about €15m in 2016-17. There is also the potential of letting some surplus players like Montoya & D'ambrosio/Dodo leave, which saves another €5m. Mazzarri's contract will also be up, saving us another €6m.
2015-16 FFP objective = less than €30m losses
Lets assume that we cannot reduce our operating costs (the black hole) and we do not increase our revenues (which should go up due to increased ticket prices, expected larger attendances, more sponsorship money, etc inspite of losing a few million we got out of Europa League).
How do we plan to meet this objective? We have reduced our losses by €27m this summer, but added costs of €7m on contract renewals. So our losses will come down from €55m to (55-27+7) = €35m. I am sure Thohir already has sponsorship deals tied up in Asia to more than make up for this €5m deficit. If not, we can sell a couple of surplus players like Nagatomo or D'ambrosio this winter to easily meet this criteria - however I am quite certain we will reinvest any money/savings we make sales into new investments. We look safe for this year, so we will not pay the penalty.
2016-17 FFP objective = less than €15m losses
Next year, lets assume for a moment that we fail to qualify for the CL and make it to the EL instead. We start the year with €30m in red, but make €26m savings from expiring contracts/surplus player wage savings (before even taking into account any amortisation savings/sale profits). Plus €5-10m of EL revenue. So even without the CL, we are ok for another year. Clearly, like this summer, all transfer activity will have to be funded by sales in this case. So Mancini (or the new manager) will sell the players he deems surplus or make 1-2 big sacrifices to get new players. Icardi looks like the most likely sacrifice - if he fetches 40m in the market, that will give us a profit+saving of about €39m. Which means we can spend upto €80m in transfer fees and upto €23m in wages (which is a reasonable budget - you can buy some great players for that kind of money).
The sale of Icardi will give us about the same budget as qualifying for CL does. So I guess
its not "CL or Bust" its more like "CL or bye bye Wanda".
Shrewd Business Plan
In the short while that he has been here, Thohir has shown that what he lacks in experience of football management, he more than makes up for it by shrewd business planning. Some observations:
1. Thohir has slowly reduced our losses, and we might even break even in 2016-17 if we make the CL. No more making 80m in losses even after winning the treble - those days are thankfully behind us.
2. Thohir is cleverly matching his cash flows from transfers - which means he only covers us for our losses, nothing more. That is the financial equivalent of street smartness, the opposite of what Moratti did for years.
3. Thohir's focus is clearly to make the CL, which will increase revenues not only from the CL but also sponsorship deals. And grow the brand in emerging markets. I guess he is looking at it purely from a business point of view - growing the valuation of the brand/company he invested €300m in. Thats his larger picture, he wants to make a big profit on his investment rather than save the €30-40m in costs now. This will be good for Inter in the long run, as bigger revenues = bigger transfer budgets.
The last point above is why I wholeheartedly agree with this plan, rather than what some other posters (e.g. Bandiera) wanted. They wanted Inter to go the conservative route - lets call it
Plan B - cut your losses now, start from a smaller base and build
. The problem with that approach is when you reduce your budget to the level of a Udinese, it takes much longer to grow it back. In the meanwhile, the valuation takes a hit. For example if Thohir had just cut the costs without re-investing this summer, we may have even come close to breaking even this year - so its a more sustainable option. And our squad could have been full of kids and players of future potential - but it would take years to reach back to the CL. From Thohir's point of view, his €300m investment would have halved in value (or worse), and that is a risk he is not willing to take.
Instead, Thohir is trying to reach the CL asap. That is key to growing the brand/valuation. But he is doing it will calculated risks and not crazy risks, as shown by the analysis above. This plan may not be perfect, but its a clever, solid plan.
Its definitely not "CL or Bust", not even close.
Its more like CL qualification this season, or next season, or the season after that. You can always fall back to Plan B if this does not work.
Last edited: