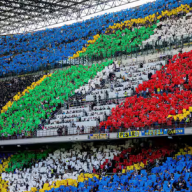 La Grande Inter
La Grande Inter
Joined

Mar 10, 2013
Messages

11,623
Likes

2,843
Favorite Player

Il Fenomeno



10 years of FIF
Kuzmanovic, Duncan, Mudingayi... id like to see a video of them with the title of this video. Im not gonna defend him because i basically never saw him playing but saying some things only based on some comments from people that saw him playing (probablay not more then 3 games), is wrong.
Im gonna wait and see before saying that he's trash. After all our mercato was really good, i don't neccesery need modric as 7. midfielder.
A young player could be wrong too. I don't see Maxime Lopez devolping here, see Asslani. Cahla is just too important for us. A part from 1-2 Coppa italia games and maybe some Serie A game where Cahla needs a rest, i don't see how someone like Lopez would play. Having young unexperienced players on the bench for me is just wrong.
Last edited: