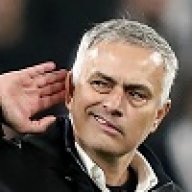 might be Deadpool
La Grande Inter
Joined

Mar 28, 2011
Messages

28,927
Likes

6,826
Favorite Player

Bea Arthur


10 years of FIF

Most Diverse Poster
No

There's an argument for who the better player in their prime is sure. As a finisher….lol come on.
Dzeko Career: 862 matches 387 goals . Lukaku career: 703 matches 359 goals
First of all, I don't want to discredit Džeko or Lukaku, both are good and capable in their own ways...
But it seems like we aren't talking about the same thing. To me, a better finisher is the one that has the better technique (for striking the ball and for setting the shot). Number of goals scored don't matter as much in this debate, because it's not like every player had the same opportunities.
So let's go through a short list.
Vieri. Milito. Icardi. Džeko.
These players are/were in terms of finishing chances on a higher level than Lukaku.
Now Lukaku can do some other things that most of these couldn't do or did in a smaller volume (like having a powerful shot and scoring with it often enough), but you cannot convince me that Lukaku has the grace of Džeko when scoring in the box.