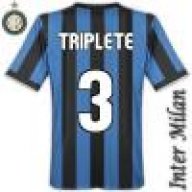 La Grande Inter
La Grande Inter
Joined

May 11, 2004
Messages

13,287
Likes

26
Favorite Player

El Principe


FIF Special Ones

10 years of FIF
England were terrible again, deserved to go out. That's not saying that Portugal were any better.

Gerrard and especially Lampard have been a disaster and the key to England's failure. Sven and Rooney will get all the blame but I don't think they deserve it, the formation was constructed to give Gerrard and Lampard freedom and the chance to support Rooney, get near the goal and score. They failed miserably. They also managed to miss the penalty, gee what a disaster for them.

Who knows what's gonna happen now, Portugal and France are very solid, they both have a big chance to get to the final. Vamos Figo!