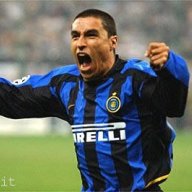 Joined

Mar 7, 2004
Messages

28,965
Likes

1,860
Favorite Player

Bar, Skr, Bas



10 years of FIF
Salary xapnth
Until this week, I didn't even know La Liga had something of a "salary cap" - and I'm guessing it's not a salary cap in the way those things work in North America - but I'm guessing the reason I've never known about them is because not even Barcelona or Real Madrid tend to come close to exceedin
Until this week, I didn't even know La Liga had something of a "salary cap" - and I'm guessing it's not a salary cap in the way those things work in North America - but I'm guessing the reason I've never known about them is because not even Barcelona or Real Madrid tend to come close to exceeding it.
Yeah, they have a salary cap which differs from American system. Theirs is only percentage of clubs revenues. As the revenues have gone down for every club, it includes the big ones too. And their caps have gone down big time when talking absolute numbers.
That's why indeed Barcelona cannot register their new signings, cannot sign Messi etc. They need to reduce their salaries so they are even willing to let Pjanic go for free despite having him on their balance sheet for 45m€ value. Just to get rid of his salary, which no one is going to pay even if new club could sign him for free.
Imagine that. Cluster fuck of a club. Well, not really in terms of talent like Pedri and Fati, but signing those new guys without resolving the financial situation probably leads yet another kicking the can down the road type of "solution". As they did last summer with Arthur Pjanic swap. It helped them last summer but already now they are deeply fucked by having Pjanic.