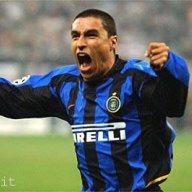 Joined

Mar 7, 2004
Messages

31,438
Likes

7,280
Favorite Player

Bar, Skr, Bas



10 years of FIF
that he's at an age where he should be starting to look at going into his prime, rather than being still very development focused.

he'll be a useful rotation option for us but i dont think he's ever going to be a really strong first team starter on a regular basis imho.

people are speaking about him here like he's 21/22, whereas he's 24
Every player has their own development trajectory, every player is a unique human being with their own learning process. I can give you this is the age you need to take steps forward, GENERALLY, but it doesn't mean Dimarco can't be better than what he's now.
This is his first season at a big club like Inter. Might as well need some encouragement, learn the moves with the team better and I can totally see him being a better player later in his career. We've seen just few months of him at Inter, at top level club. You are IMO way too harsh with your analysis though I don't think has anyone even claimed him to be a really strong first team starter.
He just needs to get some more exp and learn the ropes of playing at a big club like Inter.