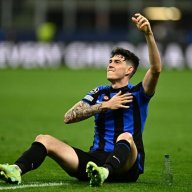 Joined

Jul 31, 2017
Messages

2,201
Likes

2,232
Favorite Player

Skriniar


Prefered in Tuscany, proceeds to list Bari, Pescara and Catania as suitable options. Mind explodes

I think most academies are rather shit on FM and they're all on a similar level, so your choice depends on name, location, current squad, fanbase and whether you like the colors or not
Hahah I knew you would said something like that. I was just looking around in the database and those clubs popped up. Tuscany is a hard choice if you don't want to start with a ''known club''. Siena is indeed a good option although their shirt look like Rube, which is a turn off. I'm in love with Tuscany therefore I wanted to do a save their. Arezzo shouldn't have relegated so I wouldn't have this problem.
The thing I don't get is that the clubs even in Serie C have big stadiums but they aren't filled for 40%. Siena, Padova, Palermo, Catania and Bari are the options who are left over for me. I will reel the wheel fortune and see where my faith is taken me. I really like the lower leagues in Italy. Always nice old clubs with lots of history and without the money like in England these are the harder saves. The upside is that most clubs have some kind of friendship with Serie A clubs so you can loan players for free which is always great.
Most acadamies are shit indeed while there are a few clubs which has decent youth teams, it's a shame they don't work this out in FM. Usually the lower you go the worst the Academy becomes while in real life this isn't always the truth.