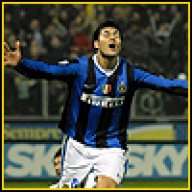 Joined

Mar 5, 2004
Messages

4,627
Likes

16
Favorite Player

Javier Zanetti

RULES
1) Make sure you have
1,000 posts
2) Squad members can only be 2 digits with no special characters, so
1-99 only
3) If number is available, then it's assigned on a first-come, first-served basis.
4) If it is used by the other member, you can still request for the squad number
IF
the member who is using it
has not posted in the last 3 months
. For example, if you'd like number 32, Handoyo is using it and if you can prove that he hasn't posted for 3 months, tell me and I'll strip that member's number and give it to you.
Code:
 0  rockball
 1  cloudq
 2  Black Knight
 3  J...
 4  Javier'sSon
 5  Provenzano
 6  Besnik
 7  Sokrates
 8  Batman
 9  Ronaldo
10  Pharaoh
11  Big Willy
12  Shark
13  Dylan
14  Wings
15  Coasterfreek
16  Nyall
17  brakbrak
18  capitano92
19  M.Adnan
20  vasilios
21  Pravesh
22  Howl
23  nurko
24  Adriano@10
25  .h.
26  Cris
27  Kakaroto
28  Kenny
29  Nero Indigo
30  eduzee
31  ScottishInterista*
32  Handoyo
33  Wobblz*
34  Stefan
35  Hasan
36  ElDuccio
37  Materazzi_23
38  nelsonrivas2011
39  CafeCordoba
40  Jnr
41  Cro Nerazzurro*
42  Ethor
43  Maslany
44  Sawyer
45  n4l
46  Efrain21C*
47  Zoro
48
49  _Ivan_
50  Bes
51  FORZAINTERMILAN*
52  The Wall*
53  king_elnino
54  KevinB
55  DARi0
56
57  Shaun
58  Earth
59  Pimpin
60  Raul Duke
61  IRR26
62
63  Me2*
64  Inter7
65  jamsieboy86
66  Choppin Onions
67  Armes
68  Kraits
69  Ed.
70  phonk
71  Sassuolu
72  alvaro
73  dynasty27
74  Ronin*
75  Lionheart*
76  perika*
77  K.I.
78  DiegoMilito22
79  Iron_Inter*
80  Mino*
81  darsez*
82  Native
83  Pani*
84  Alessandro*
85  junkie
86  vitomins
87  Candreva Crosses
88  Wallace
89  Universe
90  AntonTheGreat
91  JJM
92  Uncommon
93  spork
94  ADRossi
95  TheNetworkz
96  _OC_
97
98  Guney*
99  Verathia

*inactive as of 2022-01-12
Last edited by a moderator: