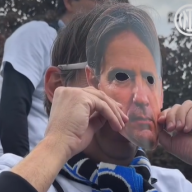 Joined

Dec 28, 2012
Messages

1,618
Likes

1,576
Favorite Player

Matrix



Forum Supporter

10 years of FIF
The idea and rules for this are shamelesly stolen from another forum (fuck em', they don't own the patent

). I found it to be a pretty interesting and simple concept, so let's see if anyone's interested in playing:
Rules:
- 8 posters are participating in this competition.
- The aim of the competition is to select a team of 11 players (1 must be a goalkeeper, 3 to 5 defenders, 2 to 5 midfielders and 1-3 attackers), choosing from players playing today, and keeping in mind their general form right now and within the last year (as a rule of thumb). The general idea is to make the best team possible.
- The participants will each take turns to select one player in ascending order (Participant 1 will select first, followed by Participant 2, then Partipant 3 etc.).
- Once the first round of the draft is complete (all 8 participants have chosen a player), the second round begins. It operates the same as the first draft, except this time in descending order (Participant 8 picks first, Participant 7 picks second, etc.). This is to ensure that those towards the end of the list get fair picks.
- You have 24 hours to pick your draft, so check this thread often if you're involved. If you don't draft within the 24 hours, your turn will be forfeited and go on to the next participant on the list - you'll get two picks your next turn instead. Also, write a quick writeup on the player you've chosen (not an essay, just a few lines), eg. 'why he fits into your team, his strengths' and so on. Maybe even add a picture of the player in question, just for the heck of it.
- When selecting a player, it's generally a good idea to have a balanced mix of defensive and attacking players, as your team will be going up against another poster's team - see yourself as a coach, where things like tactics matter - it's not a competetion about having the 11 best players, but the single greatest team.
- When all teams consist of 11 players, a randomized tournament bracket will be made, and the teams then go against each other in 1-vs-matchups. Here you set up your team in formation (using
http://www.footballuser.com/post
or the like) do a quick writeup on your team, and why you think it'd be superior to your opponent's. Now, spectators will vote on which team they prefer (participants are not allowed to vote in the interest of fair play), and the team with the most votes progresses to the next round. I haven't yet decided how long you should be able to vote, but let's see if this thread gets any activity anyway. This proceduree goes on untill the 2 last standing teams meet in the final of all finals to determine the winner.
- Not a rule per se, but I think it would help things run smoothly if the when a person has picked a player, send a PM to the next guy in line to know it's his turn.
- I'll try to organize this thing as well as I can. So your only job, if you're participating, is just to follow the rules and have fun in the best football-nerdy way possible!
Blue =
Attackers
Green =
Midfielders
Yellow =
Defenders
Orange =
Goalkeepers
Cal:
Messi
van Persie
Xavi
Marcelo
Gundogan
Barzagli
Pepe
Rooney
Wilshere
Piszczek
Marchetti
Toninu:
Cristiano Ronaldo
Lewandowski
Pirlo
Toure Yaya
Mata
Casillas
Pique
Dani Alves
Paulinho
Zun
iga
Verthongen
Ed:
Falcao
Juan Jesus
trollol
Gotze
Ozil
Hummels
Moutinho
Alaba
Azpilicueta
Kagawa
Lloris
Bender
Dylan:
Ibrahimovic
Vidal
Jordi Alba
Kompany
Robben
Suarez
Busquets
Handanovic
Valero
Zabaleta
Ivanovic
Pajo:
Aguero
Ribery
Neuer
Hazard
Neymar
Baines
Martinez
Modric
Varane
Lu
iz
Walker
_OC_:
Bale
Lahm
Schweinsteiger
Balotelli
Schmelzer
Subotic
Hamsik
Isco
Dante
Fellaini
Cech
ADRossi:
Cavani
Thiago Silva
David Silva
Fabregas
De Rossi
Reus
Mascherano
Tevez
Buffon
Veratti
Rami
Uncommon:
Iniesta
Chiellini
Marchisio
Ramos
Cazorla
Vidic
Alonso
Gomez
Jovetic
Filipe Luiz
De Gea.
Last edited: