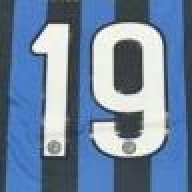 La Grande Inter
La Grande Inter
Joined

Feb 3, 2009
Messages

12,164
Likes

865
Favorite Player

Zanetti


10 years of FIF

Most Optimistic Member

Transfer Guru
3-4-3 leaves Inter GASPing!
06 Aug 2011 By Gautam Sharma
A detailed tactical analysis of Gasperini's Inter, the concerns on the current strategy, and what may be the way forward...
Last summer, after an unprecedented treble under Mourinho, Inter were on top of the world. A historic, first ever treble, 5 consecutive years on top of Serie A and finally champions of Europe, most Nerazzurri fans could be forgiven for thinking that this was the start of a new era. The era of Il Grande Inter, part two. Just one year later, it is increasingly becoming clear that it was in fact the end of an era...
The Recent Past...
Mancini and Mourinho left behind a squad of champions, players with a winning mentality – no, make that a winning habit – and we all know how important that can be. It takes years of successful planning, a lot of money, and a whole lot of shrewd moves to achieve. And while a large part of the squad was aging, it just required a few tweaks every year and some amount of continuity in tactics to keep delivering every year. Not an easy task, but by no means the most difficult one. And then Inter made one of their biggest errors in recent times... Rafa Benitez.
"If it ain't broke, don't fix it!"
-- Thomas Bertram Lance
Rafa did not fail at Inter because he is a poor tactician. He is not. Rafa failed at Inter because he tried to change too much too soon. Blame it on the ghost of Mourinho, or Rafa's ego to stamp his mark on a squad built by his adversary, the complete change in direction broke Inter. All Rafa needed to do was to continue Mourinho's successful system, and slowly tweak it over the next year or two to make it his own. Which is exactly what Mourinho had realised when he took over Mancio's champions... When his introduction of wingers (Quaresma, Mancini) failed in the first two months, he quickly reverted back to Mancini's tactics, and then gradually over the next 12 months changed the tactics/players to suit his style. Rafa's stubbornness to acknowledge this destroyed Inter, more than anything else.
Leo was always going to be a stop-gap arrangement. A proper gentleman, always politically correct, a great ambassador of the game, an excellent director, but a poor tactician. His naive attacking philosophy made easy work of the smaller, less talented clubs. However, whenever Leo's Inter came across a top team, his tactical naivety was exposed. After that loss against Schalke, his fate was all but sealed.
"For the loser now, will be later to win... for the times they are a-changing" -- Bob Dylan
Uefa's Financial Fair Play rules have brought upon a paradigm shift in the game as we know it. Teams like Inter now have to get smarter with their expenditures, and can no longer completely rely on the generosity of their patron-president. And over the last 12 months, we have seen a significant shift in Inter's strategic focus in the transfer market. The focus has shifted on youth and bargains, and building a team for the future, as I have discussed in detail in my previous article (Read:
Inter's Transfer Strategy
)...
The Challenge Ahead...
It is clear Inter needed a coach who can gradually rebuild the squad, without relying on buying established, world class players. Someone who could pick up the pieces of where Mourinho left off, and slowly integrate young, talented players into that formation ensuring adequate amount of continuity, while at the same time remain as competitive as a club of Inter's stature needs to be.
How should this be done? Lets analyse the Inter squad, and line it up in the formation which suits it best, which in Inter's case still are the formations Mourinho usually employed – first choice 4-3-1-2, and second choice 4-3-3. One way to analyse this is to create two teams from the squad in these formation(s) to identify the gaps:
To view image of Formation Analysis,
click here
*Other Subs: Castellazzi, Cordoba, Mariga, Coutinho (assuming Muntari & Rivas will be let go off)
Key observations on the above squad:
1. The squad looks reasonably suited for both these formations, more or less.
2. The strength in depth is evident. There are at least two quality players for each position, which is ideal. The gaps which were evident under Mourinho (lack of adequate back ups for key players like Cesar, Sneijder, Maicon & Milito) has been addressed by young, talented players.
3. While the first team is aging, the second team is relatively younger – which helps in the transition over the next few years
In fact, this squad looks stronger than the one Mourinho had, with some quality, younger options on the bench. So if someone like Mourinho takes over this squad, he could achieve serious silverware. If only cloning was legal, or if someone like Mourinho was available in the market!
And that is exactly why I was so confounded that Inter were unwilling to pay the Eur 15m release clause for Andre Villas-Boas, before Chelsea swept for him. And this is exactly why the appointment of Gasperini is so intriguing.
The New Coach...
"Gasperini is the coach who put me in most difficulty. I would change but he would adapt, time and again." -- Jose Mourino
There is little doubt about Gasperini's tactical astuteness. He did exceedingly well at Genoa, anyone who can finish as high as 5th with Genoa (a club where almost half the squad changes every season) has a brilliant read of the game. All his teams, right from the days he was the youth team coach at Juventus, play attacking football combined with an excellent work rate off the ball. Gasperini is also considered a master of substitutions, and as Mourinho pointed out, he can keep changing his tactics to suit the situation. In short, he is everything Leo was not, perhaps the main reason Inter went for him.
However, Gasperini from the very beginning of his career as a coach has favoured a 3-4-3 formation, with overlapping wingers. And he has mostly stuck to this formation in the pre-season with Inter.
"Gasperini's Genoa performed movement off the ball, so I wonder will his football even be possible at Inter. He will have to adapt to the squad, most likely. I just wonder if that will work to improve Gasperini's bag of tricks or instead reduce his capabilities." –- Arrigo Sacchi
Gasperini's 3-4-3 formation deploys two wing backs who play with relatively less defensive duties, covered by the 3 centre backs. The CBs need to have a higher work rate, and are also required to frequently initiate attacks, and hence need to be comfortable with the ball. In the middle, the Trequartista is replaced by a Regista, a deep lying playmaker if you like. The wingers in the attack need to be very agile, with a high work rate.
Before we analyse how this works for Inter, let's create two teams from the squad in the 3-4-3 formation:
To view image of Formation Analysis,
click here
Lets analyse how well the resources fit with the 3-4-3:
1. Gasperini's 3-4-3 formation deploys two attacking wing backs who play with relatively less defensive duties, as they are covered by the 3 centre backs. Which will probably suit players like Maicon & Nagatomo, over Zanetti who may not be able to offer the same attacking edge. However, overall the current Inter are adequately covered in these positions for Gaspirini's formation.
2. The CBs need to have a higher work rate, and are also required to frequently initiate attacks, and hence need to be comfortable with the ball and have some pace. Which works in the favour of Lucio, Chivu & Ranocchia (even if they are not the fastest), but at the expense of Inter's best defender – Walter Samuel. Not only will Samuel & Cordoba's lack of pace will expose them in a 3-man defence, their relative lack of ball playing ability will make them ineffective as well. That combined with Inter's lack of 6th CB (not counting Rivas who should never be allowed to wear Inter colours again; while Benedetti is too young) leaves Inter 2-3 CB's too short in the squad for Gasp's formation. Clearly, Inter are not ready for a 3-man defence yet, far from it.
3. Sneijder playing so far back as a regista takes away from some of his key strengths as a Trequartista. Even though he has the quality to become a decent regista, this will be under-utilising his talents. And while Stankovic-Motta are decent back-ups, neither is good enough as a regista, as all Inter fans have learnt from the Leo era. So Inter are clearly short of a regista (and hence the rumoured moves for Banega or Montolivo).
4. In the middle of the attack, Pazzini & Milito are adequate options. On the left side of the attack, Inter are well covered with Eto'o with Castaignos as his back up (since he is not ready to play a starters role yet), even though it will compromise Eto'o's goal scoring ability. They both have the right characteristics that Gasp desires. However, on the right is where there is another problem. Alvarez is more of a trequartista, and too new to start on the left. And Pandev just does not have either the work rate, or the agility. Perhaps this is why there are so many rumours regarding Palacios or Tevez (freeing Eto'o for the right).
It is quite evident from the above, that there are too many gaps for Gasperini to try and force-fit 3-4-3 as the main strategy for Inter. He way be able to get away with a first team when everyone is fully fit, but just does not have the back-ups to play this over the entire season. And Inter will not buy 4-5 new players that he needs to make 3-4-3 suitable for Inter. Moreover, a large number of Inter players are on the wrong side of 30s, and may not adapt well to the agility that is required in Gasp's style of play. And in the entire Inter suqad, only Motta, Ranocchia & Milito have experience of playing in 3-4-3 before (all at Gasp's Genoa).
A good coach adapts his strategy to ensure he gets the best out of his key resources ie he essentially builds his strategy that best suits his key players. So lets look at how the 3-4-3 impacts Inter's key players:
1. Cesar - Little impact, can adapt
2. Lucio - Littlle impact, can adapt
3. Samuel - Highly negative impact - makes him inefffective
4. Maicon - Favours him
5. Sneidjer - Negative impact, plays out of position
6. Eto'o - Negative impact, compromises his goal scoring
Thats 3 negative out of 6, only 1 positive. Clearly not ideal.
In the past, Gasperini has from time to time tried some variations... 3-4-1-2, 4-3-3 and even the 3-5-1-1 that he tried today in the Supercoppa against Milan (which shows his excellent read of the game, starting 6 in the midfield against Milan was a good idea and work in the first half). Apart from the 4-3-3, the other formations still do not suit Inter, mainly due to the lack of suitable resources for an effective 3-man defence. So how flexible is Gasperini in terms of formation? Unfortunately, he has proved to be quite rigid with the 3-man defence in the past. While the 3-4-3 was working well for Genoa, last summer when they bought some key players who did not suit the formation, Gasp ignored them. One of the reasons why he got the sack, even though Preziosi had earlier likened Gasp as the Sir Alex Ferguson of Genoa.
The 3-man Defence...
But by far the main concern for me, is that the 3-man defence has no place in modern top level football...... Continued at
http://footballspeak.com/post/2011/08/06/Gasp-not-the-3-4-3-for-the-Nerazzurri.aspx