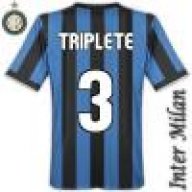 La Grande Inter
La Grande Inter
Joined

May 11, 2004
Messages

13,287
Likes

26
Favorite Player

El Principe


FIF Special Ones

10 years of FIF
For all of you who don't have access to the giant of Italian sporting newspapers, La Gazzetta Dello Sport, here are scans of first pages after each Italy win in the final stage of the world cup, plus 2 official posters celebrating the final triumph.
Gazzetta's issue on 10 July, celebrating the world cup triumph, was the best selling ever: the first batch of over a million copies went out of stock in a few hours. Gazzetta then decided to print an extra million copies that afternoon, but even that wasn't enough to meet the massive demand.
Therefore the 10 July edition was re-printed and distributed on Tuesday the 11th, as well as that day's edition. Incredible.
I got my copy framed in my living room right next to my giant Inter flag. I also framed the first page of the Daily Telegraph, which has got a picture of Matrix celebrating his goal in the final, pointing at the sky, with the title "Italian Masters".
Ok, here's the stuff, enjoy:

27 June 2006 after Italy 1 Australia 0
1 July 2006 after Italy 3 Ukraine 0

5 July 2006 after Germany 0 Italy 2
10 July 2006 after Italy 6 France 4

Poster no 1
Poster no 2
Matrix Daily Star
Last edited by a moderator: