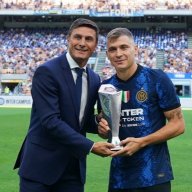 Joined

Jul 7, 2019
Messages

380
Likes

383

To add to the above, players like Satriano, agoume had to spend a year in our primavera to adapt to the country and culture etc. During this time, they played primavera level which is less than their level.

If we had a B team, they could've played there and at least gained actual match experience against grown men.

Casadei is dominating the primavera right now. He's cleanly above that level, yes we should've loaned him out but maybe he exploded during the season and wasn't ready to be loaned out at the beginning. Now that he's dominating, if we had a B team we could test him there for some matches. It's at least tougher than the Primavera.

A B team doesn't harm us in anyway imo.