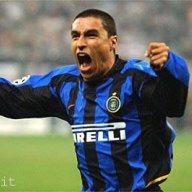 Joined

Mar 7, 2004
Messages

33,253
Likes

10,297
Favorite Player

Toro, Barella



10 years of FIF
guys we shouldn't confuse scouting with the decision making/strategy that the club has.
The 2nd is much more important than the 1st

At inter the strategy has always been win now. It has never been ok in the next 4-5 years we will completely rebuild the roster and invest in youth no matter of the results.
So based on that main pillar and the budget that you have the rest follows.

If you have a win now strategy and 20M budget of course you can't afford to bet on Kvara from georgia but you go for Lukaku who has proven in the past that can deliver a title. The outcome in the end doesn't impact the thought process in the beginning.
It's very easy to say now that it would have been better to get Kvara instead but that is not how it works.

Napoli on the other hand has a completely different strategy which is buy young potential who have resale value and don't have high salary demands. If Kvara had failed no one who have judged napoli for not winning the title so it puts much less pressure on their youngsters/new comers to play without pressure.

Of course you can have a win now strategy while also investing in youth and high potential players but that needs a much bigger budget than what we have had in our disposal lately.
Excellent point.
Specially that comparison to Kvara and Lukaku. Before we've seen Kvara at Serie A, how can you suggest you go to Scudetto battle with him?
Napoli did just that but the key difference between Napoli and Inter is that they are not expected to win anything. At some point it's unfortunately like that, you can't take too much risks. If Inter signs Kvara and he flops (because of pressure, because of whatever) and how stupid Inter, management, coach would look?
We all want Inter to take these risks but it's easy to shout over here in the Internet about these matters. We have zero skin in the game in the end. Unlike owners, directors, coaches etc.