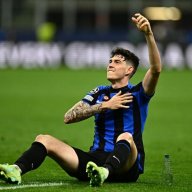 Joined

Jul 31, 2017
Messages

2,030
Likes

1,883
Favorite Player

Skriniar


Name the realistic option we're linked to you prefer…I'll wait.

Strengthening the squad? You know we lost one of the top 3 players in his position right? The squad is already weakened, now it's about finding the replacement that is the most serviceable. Again, please tell me who from Bellerin, Dumfries and Zappacosta you prefer.
The most realistic now for me is Bellerin. Not because I think he is a great player but it's a loan deal so we can decided at the end of the season if he is good enough. Dumfries is just not good enough. We don't have much money so we should invest the money in players who allmost certain would be an addition to the squad. Dumfries would cost us 20/25M and we have to pay Raiola another shit load of money. Why invest in someone who only played good at the EC and in the Dutch league. I know I'm the one who pushed for Eredivisie transfers (Onana, Tagliafico and before that Ziyech) but we have all seen that Ziyech, VDB, Klaassen, Kluivert etc aren't good enough to play themself into the starting eleven at various clubs and except for Kluivert all these players were considered the best players of the league.The jump from Eredivisie to Serie A or any other top 5 competition is to big for most of the players. You have always exceptions like De Ligt and De Jong but these 2 players are on their way to become world-class.
Every player after Hakimi is a downgrade I know that but I don't think Dumfries is much better than Darmian. We should stay far away from Eredivisie players right now because we can't take gambles with our money. We can gamble with loan transfers as we might end up not getting the player or in Bellerin his case he might not get enough playtime to trigger some clause. I would even try and get Vrsaljko IF he is fit enough and try to work some loan deal with Atletico. We should try and get loan deals for most of the players we want because we can't afford to take gambles with the little money we have to spend.