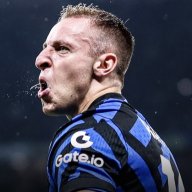 Joined

Jan 27, 2009
Messages

27,399
Likes

9,080



Forum Supporter

10 years of FIF

Best Overall Poster

Most Humorous Member

FIF Special Ones
After Benevento we have Fiorentina (away), Lazio (home), Milan for Serie A and two games for Coppa Italia probably against Juventus. All this for in less than 20 days. So, yes, some rest for key players may be a good decision here.
Yea, the immediate schedule is fucking insane. Between the home games against Benevento and Genoa, our two easy games, we have: juventus, Fiorentina, juventus, Lazio, Milan

I think there's zero chance that we go through that stretch without dropping points or without key players missing key matches due to suspension. Absolutely ridiculous that at least one of Barella / Broz didn't take a strategic yellow against Udinese.