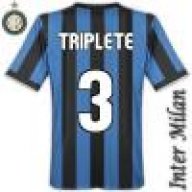 La Grande Inter
La Grande Inter
Joined

May 11, 2004
Messages

13,287
Likes

26
Favorite Player

El Principe


FIF Special Ones

10 years of FIF
Hey guys,
I don't know about you, but I really like to save the best pics after Inter games. I've been doing so for a couple of years, and it's always nice to look back at the old good times and see how much things have changed.
I used to post lots of pictures, but now I have less and less time online and I haven't managed to do so lately.
After seeing Keir's wonderful video thread, I thought somebody could take charge of this thread, posting the best pictures after each Inter game.
You could search wherever you like, but the best places are inter.it, and gettyimages
(
http://editorial.gettyimages.com/MS_GINS/source/home/home.aspx?pg=1
)
So, does anybody want to take charge of this?