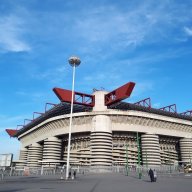 Joined

Nov 2, 2010
Messages

3,013
Likes

96
Favorite Player

Vieri, Baggio


Forum Supporter

10 years of FIF
I think "La Grande Inter" is the right place for my question:
I know that there exists an award called "Inter Player of the Year" ... but I haven't found a list in the internet.
All I know is that Cambiasso won the award 2005 and Figo in 2006 (and that Stankovics goal against Ajax was awarded as the best Nerazzurri goal this year). Here's the "proof":
http://www.inter.it/aas/news/reader?L=en&N=22921&stringa=%22player%20of%20the%20year%22
Does there a complete list exist? I'd like to add it on the German and English Wiki-Sites ...
Edit: It seems that Blanc was awarded in the year 2000.
Thanks to Inter Siamo Noi I have:
Thanks to Inter Siamo Noi and the site
www.premiosansirogentleman.it
I have:
1996: Roberto Carlos
1997: Javier Zanetti
1998: Ronaldo
1999: Benoit Cauet
2000: Ivan Zamorano
2001: Christian Vieri
2002: Javier Zanetti
2003: Fabio Cannavaro
2004: Adriano
2005: Esteban Cambiasso
2006: Luis Figo
2007: Julio Cruz
2008: Javier Zanetti
2009: Esteban Cambiasso
2010: Javier Zanetti
Other awards:
2000: Javier Zanetti (Premio San Siro Gentleman Nazionale?)
2002: Javier Zanetti (Premio San Siro Gentleman Nazionale?)
2003: Javier Zanetti (Premio San Siro Gentleman Nazionale?), Emre Belozoglu (Inter Goal of the Year), Obafemi Martins (Premio Speciale Gentleman rivelazione dell'anno?)
2004: Adriano (Inter Goal of the Year)
2005: Adriano (Inter Goal of the Year), Christian Vieri (Inter Goal of the Years 1995-2005), Javier Zanetti (Premio Speciale "Leone Alato" Assicurazioni Generali?), Sinisa Mihajlovic (Premio Speciale "Metti a Fuoco" Greenvision)
2006: Dejan Stankovic (Inter Goal of the Year), Roberto Mancini (Premio Speciale "Leone Alato" Assicurazioni Generali?), Massimo Moratti (Premio Speciale "Gentleman dei Gentleman" Autosei Chrysler Group?)
2007: Javier Zanetti (Premio San Siro Gentleman Nazionale?), Maxwell (Inter Goal of the Year), Luis Figi (Premio San Siro Gentleman Calciatore Gentleman Europeo?), Esteban Cambiasso (Premio Speciale "Leone Alato" Assicurazioni Generali?)
2008: Luis Figo (Premio San Siro Gentleman Nazionale?), Javier Zanetti (Inter Goal of the Year), Julio Cruz (Premio Speciale "Leone Alato" Assicurazioni Generali?)
2009: Javier Zanetti (Premio San Siro Gentleman Nazionale?), Maicon (Inter Goal of the Year), Davide Santon (Premio San Siro Speciale Gentleman migliore rivelazione 2008/2009), Guiseppe Baresi (Premio San Siro Speciale Gentleman alla carriera)
2010: Zanetti (San Siro Gentleman Serie A), Maicon (Goal of the Year), Mourinho (Speciale Max award), Pagliuca (San Siro Gentleman Career Achievement award)
Last edited: