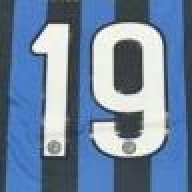 La Grande Inter
La Grande Inter
Joined

Feb 3, 2009
Messages

12,143
Likes

786
Favorite Player

Zanetti


10 years of FIF

Most Optimistic Member

Transfer Guru
It seems like no coach can make Inter work. I am sure we all have wondered why, and I think we all have come to the same conclusion. Its because of the management's lack of vision. There is no consistent strategy in hiring a coach, we seem to ping-pong between completely different playing styles every time we change the coach. And the timing is usually wrong too, as in the case of FDB.
The problem runs a bit deeper. Inter are pazza in many ways, and it comes from the top. In the 30 odd years I have supported this club, its always been like this. Perhaps some of you could throw some light on what it was like before.
The chaos from the top runs across the club and reflects on the pitch.
That is because the top management lacks a vision, and because of that the directors (and coach) pull in different directions. That results in random new coach selection, and a patchy transfer strategy which becomes worse with every new coach. Its hard to win a Scudetto at any club, but at Inter all this makes it even harder. That is why we see so many coaches (and players) having a career blip at Inter.
How do we make this work? Let me break down what I've learnt from the last 30 odd years:
28 Stints:
I have now seen 28 different coaching stints over the years, and 4 presidents. This has included some of worst years of Inter's history, as well as a few of its best.
6 Scudetti:
Over these 30 years, we have won 6 Scudetti.
5 Stints of Stature:
Out of the 28 coaching stints, only 5 of the stints included coaches who had the stature or personality to have a big influence on our transfer strategy. That is Trappatoni, Lippi, Mancini, Mourinho and Mancini again.
3 Successful Stints:
We won all the 6 scudetti only in 3 coaching stints. Interestingly, all 3 of these stints were among the "5 Stints of Stature" as defined above, when the coaches had the personality/stature to influence the transfers. That is Trappatoni, Mancini (1st) and Mourinho. I don't think this is a coincidence. Because when the coach influences the transfers, he somewhat delinks the top management from the team. So the chaos at the top does not completely reflect on the pitch and the team becomes more attuned to the coaches strategy.
2 Years:
So what is the difference between the 3 successful stints and the 2 that weren't (Lippi and Mancini's 2nd). Interestingly, the two stints which failed were the ones which lasted less than 2 years. Now IMO this is largely a coincidence, but there is something to learn here as well.
Inter is an unique (pazza) environment as we are all well aware. We need our unique solution, and the recent past gives us a good idea of what works. We need a coach with the stature/personality to be able to influence the transfers. Someone who has a track record of winning, so the management has enough confidence to give him at least 2 years even when the immediate results don't go our way. Someone who can manage the big egos in the management and dressing room. Someone like Simeone, for example.
I know there is another way, as I am sure Bandiera is dying to talk about. If the club has a vision (like Barca does) then we can hire young, upcoming coaches who share that vision and build a sustainable success story. For example, someone like Di Francesco (who I rate as a coach). But thats a big
IF
, as far as Inter are concerned. I doubt Thohir or Jindong have the football knowledge to develop a clear vision. If we hire someone like Di Francesco in the current environment, I am afraid he will be lost like many others before him - he will have to depend on the competence of Ausilio and the sincerity of Kia Joorbachain, with everyone pulling in a different direction. And we know how that story ends. FDB is facing a similar issue, and not surprisingly this is not going well.
We need to learn from our recent past. We need a big name coach who can influence our strategy, and align our efforts in one direction. Ideally someone who can use some of our existing players, so that we don't have to start from the beginning again. Not saying that this is guaranteed to work, but I believe this has the best chance of working at a place like Pazza Inter.
Last edited: