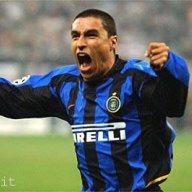 Joined

Mar 7, 2004
Messages

33,257
Likes

10,297
Favorite Player

Toro, Barella



10 years of FIF
Interesting point in this one is that it's some kind of settlement agreement again with UEFA. I remember I've read about another settlement agreement with UEFA before during this summer actually, but there wasn't much else about it reported.

They also rumor Barca and Juve won't negotiate for any settlement. I'm wondering what shithousery we manage to pull off out of this. We negotiate some shitty deal and eat that shit. Juve and Barca refuse to comply and eventually they'll let off the hook when they go to court with UEFA or some shit like that.

This is just guesswork, amusing myself with this misery. But transfer ban would be very bad for us.

One thing is however very suspect, how UEFA could impose transfer bans? Is it stated even in FFP rules that one punishment method is transfer ban? Or is it just typical UEFA/EU shit, they are figuring things out on the fly. Usually transfer bans have been FIFA stuff.