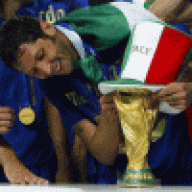 Joined

May 22, 2004
Messages

9,336
Likes

2,228
Favorite Player

Oba


10 years of FIF
DIGITALBITS DEAL FAILURE RISKS REDUCING INTER TO JUNK BOND STATUS

#showmethemoney
This might be good news for everybody who wishes the zhangs sell fast so everybody.....
Rumor has been floating around that steven is searching for new loans in order to ot have to sell, i doubt he ll be able to do that if we re junk rated. Or lets say i doubt his dad will allow him to take on such a huge fucken risk...
Last but not least i still cant believe how blue eyed we did that fucken deal with crypto bros especially after already having bad experiences last season. Like initially i was pissed but looking at some public deals that other sports clubs did with crypto bros i got a bit calmer as most of them asked for payments upfront and they got some other assurances which made non payment extremely expensive for the crypto cos....
Apparently we did nothing like this and we just agreed with who ever yelled the highest fucking number at us. Quite sure if fif would have offered to pay 20 mio/ season Fif would have been written on our shirts for the first half of this season. Very obvious that 0 due dilligence went into signing with these fucken fraudsters.
Also side note just fucken sell the club zhangs at this point it will take nothing short of a miracle to not file for bankruptcy f the zhangs stay at the helm much longer.