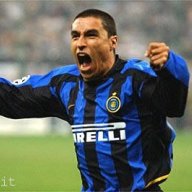 Joined

Mar 7, 2004
Messages

29,148
Likes

2,274
Favorite Player

Bar, Skr, Bas



10 years of FIF
Let's open a separate thread for this initiative.
So what is InterSpac? It's basically an initiative to collect money from Inter fans around the world to buy a piece of Inter. To finance the club and own piece of it.
https://interspac.eu/
The base idea of this thing is that Inter would be owned like Bayern Munchen or any other club in Germany where there is a law that at least 51% of a club needs to be owned by fans (regular people). Of course it's harder to achieve in Italy because the valuations of the (big) clubs in Italy are much larger than clubs in Germany. If the starting point is 1 bn € like Zhangs have set Inter's value, we can calculate pretty easily it's impossible to get to 51% shares (500m€ from the fans).
Anyway, this is an interesting case. InterSpac is lead by Carlo Cottarelli, former International Monetary Fund (IMF) director. The initiative has gathered some 50 celebrities or other recognizable names to be the pull for this initiative. Among them are some famous Nerazzurri names like Materazzi, Altobelli, Bergomi, Zenga.
InterSpac put up a survey to gather info how much interest there would be for this kind of thing, how much would people put money into this kind of thing and so on. Whispers today tell that around 100k people answered to the survey around the world. That number is my opinion way too low but let's not worry about that yet.
browha's (
@.h.
) opinion is that nothing will come out of this ever because there's just not enough willing participants. I'm not yet downplaying it although I'm also sceptical if anything will ever come out of this. Starting from the case that what would be the motive for Zhang's to sell some minority shares. Unless the valuation in the deal would be favourable to them which then would feel strange for the fans to pay a premium price for a minority shares.
And all that would require this SPAC to collect like AT LEAST hundred million, maybe double-triple amount. 200-300m€ is close to impossible in my view. Even 100m€ will be extremely hard and requires many, many high rollers willing to put in millions of their own money.
But let's not worry about that, it's interesting to follow this case because at least the front guy is not some shady conman.