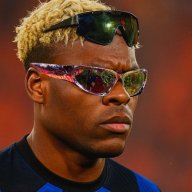 La Grande Inter
La Grande Inter
Joined

Mar 3, 2009
Messages

17,649
Likes

4,049



10 years of FIF
Hi.
It's nice to have you around here, and I think it would be good idea to interview you with some questions. :shades:
1. What is your full name?
2. How old are you?
3. Are you studing (what do you study)?
4. How did you became Barca fan?
5. How did you find Forza Inter Forums?
6. Except of Barca's matches, do you follow Inter regularly too?
7. What is your favourite player in Inter?
8. If you would have chance, would you visit Meazza?
9. Which league is better in your opinion (Serie A - EPL)?
10. Mourinho - Ancelotti?
Thanks!!
Kind Regards,
Besnik