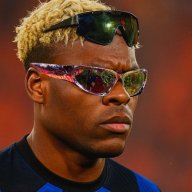 La Grande Inter
La Grande Inter
Joined

Mar 3, 2009
Messages

17,169
Likes

3,371



10 years of FIF
It's time to make some questions to the anonymous dude, you're forced to accept this interview, so I'm gonna start and ask a bunch of questions. :shades:
1. What's your full/real name?
2. How old are you?
3. Do you work or study anything?
4. Why are you keep hidding your status profile in FI?
5. How did you became Inter fan?
6. How did you found Forza Inter Forums?
7. Have you ever been to Meazza?
8. What's your favourite food?
9. If any angel would ask you for three wishesh, for what would you ask?
10. Why 'Universe' ?
Blah!!