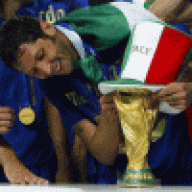 Joined

May 22, 2004
Messages

9,003
Likes

1,806
Favorite Player

Oba


10 years of FIF
Why remove buy back clauses? They're like release clauses.
But they are favouring big teams as in we get to sell a player and limit the potential upside the buyer has when it comes to selling the player for a higher price.
So while the small team also profits and gets a good player for less then they would have to buy in a straight buy it still is heavily favored for the big team i mean if it goes great and the player develops they win if the player completely flops they also win it s only when the player stays mediocre when the big team does not get the better of the deal.
I honestly think it s worse than co ownership deals for small teams. At least in co ownership the small teams can go to a blind auction and get good money, with a buy back there is no way the small team can profit as much if the player develops better than expected.