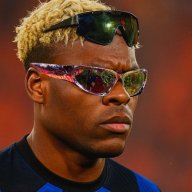 La Grande Inter
La Grande Inter
Joined

Mar 3, 2009
Messages

17,725
Likes

4,153



10 years of FIF
Hi foks,
Let's discuss here about the Serie A for the next season.. Here's the new official logo for the new season in Serie A.
Source:
http://translate.googleusercontent....&twu=1&usg=ALkJrhiZ8uxrHG8zsQuXA9Ff7_hvdDsuXQ
Do you think Juve & Milan will improve their squad for the next season with their newest transfers.. especially Juve with signing Del Neri as their newest coach and Pepe as their newest player so far..
We can broke Juve's record of winning scudetto 5th time in a row, so if we win again scudetto this season, we'll reach 6th tittles in a row, and personally this is my wish for the next season.
Regards,
Besnik