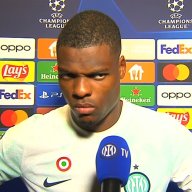 Joined

Oct 31, 2019
Messages

262
Likes

213
Favorite Player

Barella

If there is the game to show your abilities to the world, and make your name heard it's this one against milan. I have no doubts that Sassuolo will be fired up and with the best squad possible. This game will be most watched and on big stage like that no one wants to look bad.
I put my hopes that milan won't be able to handle pressure. If they win it surely won't be because Sassuolo let them win. What happens happens.

Also game is played on May 22nd, might not mean anything but just wanted to put it out there.