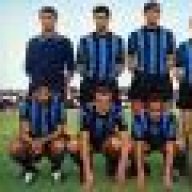 Joined

Nov 2, 2011
Messages

1,661
Likes

447
Favorite Player

Ronaldo


10 years of FIF
Congratulations to Milan!
Even if it hurts, I must say I admire what Maldini/Gazidis did! It was the same pattern of a fucking project I always wished Inter would do! Especially in the last years of Maratti or Thohir. When we were anyway poor.
They scouted and bought a lot of young players. They had patience with Pioli (the same Pioli we threw away like a rotten teeth). Even whe the things didn't work well, I never heard rumours of firing the coach. Pioli developed the players, implemented a system and stuck with it.
Maybe in all the discussions, we forget how important is the continuity and stability. Kudos to Milan!

I suffer all the Moratti era, because Milan were better. Berlusconi was not per se better than Maratti. He had also his tantrums. But he had Galliani, who knew how to build a team and run a club. And Galliani could tell Berlu to fuck off every day of the week. We didn't had such a person in the club.
It's my stong belief that Maratti era would have been much better, if he would have hired someone competent to run the club. But we had Branca, Ausillio and other fuckers who where nowhere competent enough to run the club.

I hope, we won't be again in the shaddow of Milan. I have confidence in Marotta. But alone, he cannot do everything (Zhang should invest or fuck off).