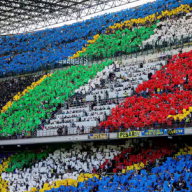 La Grande Inter
La Grande Inter
Joined

Mar 10, 2013
Messages

10,273
Likes

458
Favorite Player

Il Fenomeno


I have to say that Serie A is going to be (again) a litle bit boring. Now that the leagues best player of the season is going + Inter can't be considered as a competitive team, were again back where Serie A was with Juve wining the league and everyone else watching. It had to be the year where Juve and Inter fights for the scudetto but yeah... i think it's hard to find some interest in this league. Not talking "as inter fan", but generelly as someone who watches other games too, im honestly not that hyped this year to watch Serie A.
Last year at least it was Juve-Milan-Inter. We were favourites but Milan was first for a lot of time and there was always Juve who still could join the fight with their team (at the end the they didn't, thanks to Pirlo).

btw. we generelly lost good players this season, not only Lukaku. Hakimi, Eriksen, De Paul, Romero, Donnaruma... 4 of this are players of the last years "serie A team of the season team". The mercato is also really slow, seems like no one has money to get world class players outside Serie A.
Last edited: