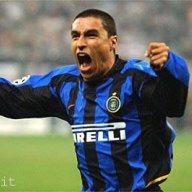 Joined

Mar 7, 2004
Messages

33,202
Likes

10,210
Favorite Player

Toro, Barella



10 years of FIF
pls elaborate on who's got a better defense than us on paper?
Defence is so much more than just the names of the defenders in the sheet. Come on, it's the playstyle, how the midfield supports the defence and even how the forwards play. What are the risk levels players are allowed to play in different parts of the pitch. We leaked goals specially in the early part of the season because we made risky plays all over the pitch.
And don't come to me saying De Vrij is some top class CB when half the forum has been bashing him for an year how poor he is.
You ask what's the point in keeping clean sheet against Napoli (and win) and then let Monza score two? Well we got 4p from these two rounds. Napoli got 3p. If it was us drawing (let alone) losing to Napoli and winning Monza, it would have been 3-4p to us, 4-6p to Napoli.