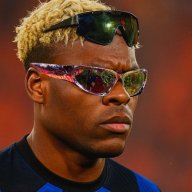 La Grande Inter
La Grande Inter
Joined

Mar 3, 2009
Messages

17,649
Likes

4,048



10 years of FIF
If somebody is so-called garbage a period amount of time that doesn't mean they'll stay garbage forever. It's not that I think Pulisic is some kind of great player, but he can surprise defenders. He is not totally without skill.

I still believe Milan will finish fourth. That was my point. It's not like they need the full squad to win games, but they do lack a Lautaro/Osimhen up front to be title contenders against this Inter and this Juve.
I mean, he isn't as garbage as Correa is but still poor considering that enthusiasm around while he joined Milan, and his beginning was sharp but ever since that, he's been almost completely off in these matches he played. He is fast, but he isn't physically as strong as Leao is, or even at dribbling. My point is, it's much easier to neutralise a player like Pulisic rather than Leao although latter one has always had inconsistency issues.
Yes, I do think Milan will end up in top4. I actually think they will finish above Napoli because the latter are going through coaching role issues, no harmony as earlier under Spalletti and so on.
I'd say they need much more than what you mentioned. Their midfield is average at best. They do have some interesting figures in midfield like Reijnders and Loftus-Cheek but they are either too raw or too fragile. Krunic is also average at best.
I even said in the beginning of season, let's wait for a while before we make conclusions regarding top teams of the league. Milan started the season pretty well with so much urgency and that was it. Their biggest issues are their key players being extremely inconsistent in a long term. Theo has been pretty damn poor for a while now, I don't even remember last time he's had a streak of great matches.
It's either Maignan to keep them alive or Leao to unlock things, the rest have been disappointing. Maybe even Tomori lately seems to pick up his good form.