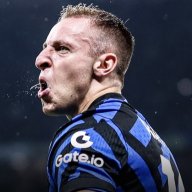 Joined

Jan 27, 2009
Messages

25,680
Likes

2,318



Forum Supporter

10 years of FIF

Best Overall Poster

Most Humorous Member

Most Diverse Poster
Not really. Cancelo, Cuadrado and Kostic switched from winger to wingback, or even fullback, and be excellent with it.
Cancelo, Cuadrado are flank players, wide midfielders or wingers by trade. Thuram is a forward, essentially a striker on the left. Their characteristics and the way they play is completely different. Thuram has also played half his career as an outright centre forward. How many of of Perisic, Cuadrado, Kostic or Cancelo played half their careers as a striker?
They might occupy similar zones at times but that does not translate to similar functions on the pitch.
Of the names you've mentioned, only Cuadrado has spent significant time playing "all 3 roles", as an attacking winger, wide midfielder / wing back, and outright fullback. But Cuadrado made his name at Udinese and Lecce as a RWB in a 352 before ever being known as a winger at Fiorentina. He had that experience prior. Cancelo was always an RB and was occasionally experimented with further up the pitch. Perisic, for all his defending, has never, ever played as left back. Kostic likewise. It's not like these guys were all wide forwards like Mahrez or Insigne and all seamlessly transitioned into fullbacks.