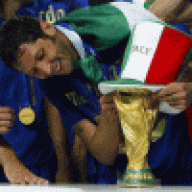 Joined

May 22, 2004
Messages

8,571
Likes

1,286
Favorite Player

Oba


10 years of FIF
No one is arguing that there isn't an issue.

The main problem here is that you expect Italy to fix something they don't realize is a problem to begin with. They have no fucking clue of what to do. How do you go about eradicating this from stadiums and society? Or are we going to be happy if this stays in Lampedusa and the urban centres but out of football?
First of italy very well knows that it is a problem at least the FIGC should know there have been enough scandals surrounding this that they should know that this is a issue. And i get that the average italian does not look at it like a problem but the ones in charge of Clubs and of the lega know that it is a problem and that it damages our image so fucken do something about it. Secondly yes yes we should only take it out of the stadiums there is no place in this world where there are not racist and biggoted people but we should not allow them to use the platform of football to spread their hate/message.
My take on Balotelli and the others is also irrelevant. The relevant part is how to make this not be in the headlines. And since players will be affected by it, it's going to make headlines if the people in charge don't stop it. And the people in charge are the Italian government and some ministries, not Inter or Cagliari. It's a political issue, not a football one. The football clubs cannot do much.
Again your deflecting it s totally in inters power to ban the CN or to put out a statement, will this solve racism? No it wont but atleast we re sending a message instead of sitting on our asses and go like meh this is the governments issue especially in a time when the government is led by the cinque stelle movement.
I m not saying we could solve it or cagliari could solve it but we could and should at least take a stance. ANd the least they could and should do is take away a platform of these guys.
And no your take on balo and co is not irrelevant you ve been insisting that it s just an italian thing and italians dont consider this offensive or racist well here s an example of three italians who felt it was offensive and it was racist so yes it does matter. You cannot just say that it s not considered a problem in that very society?culture when in fact a part of the society(The one that is affected) very much looks at it as a problem.
Last edited: