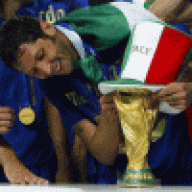 Joined

May 22, 2004
Messages

7,812
Likes

116
Favorite Player

Oba


10 years of FIF
The good news is it sounds like these idiots might die out in the next 30 years
Not sure if thats good news unless your referring to racists with idiots. I absolutely hate the atmosphere in epl stadiums where there is no curva or ultras. The only good atmosphere is in pool and that also is only before and or after the game when they sign you ll never walk alone otherwise epl fans are teriible and so is the atmosphere in their stadiums( btw same goes for us sports where there are no ultras).
Like who enjoys an arsenal game where the fans just go AAArsenal, AAArsenal, AAAArsenal and thats all they sign same goes for chelski with their Chelsea!! Chelsea!! Chelsea!! Chant wtf is that? And i wont even get started on choreos or pyros.
As much as i hate the violent and racist nature of ultras as much do i love the atmosphere and the choreos they bring to the stadium.
I mean if you ever have the chance to go watch an Aris game in greece the football quality is poor but whats happening in the stadium is just insane and it s very hard to not love it.