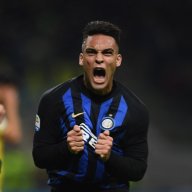 Joined

Mar 22, 2018
Messages

3,505
Likes

517
Favorite Player

Lautaro

First i had noticed him in the game with Fiorentina, when he scored the equalizer in the injury time. After that, i watched some matches of him, and he struck me as a mediocre player. But next season, he has exploded. The leap in the quality of his production was immense, and this is not a thing related only to talent, but more on hard work, concentration and understanding of the football, which is a sign of solid mentality. I've read somewhere that he has been working very hard on trainings and staying even afterwards in order to practice more and to improve. Here is a quotation of his interview: "

I feel the responsibility. You are a first-rate player when you score two goals at my age, but you immediately become a failure if you don't score in two games. I know how this works, I'm focused and down to earth. I don't know where I will get to. But I don't want to regret anything," "I try to improve every day. I always try different things in training. The trick is to repeat the same movements over and over again. Ronaldo always wants to improve. That is the secret of champions,".

The lad looks serious and very focused on what he is doing. I'd say that this is up to mentality.
Thanks for the info, didn't know about that. I don't follow football closely in recent years except for Inter. In case you didn't read about Lautaro's professionalism, attitude or mentality, I've been posting this material about him here:
Calling him the Argentinian Gabigol is insanely harsh but I've long agreed that he doesn't have any particularly elite traits at the current time. Nor does he show any elite level of potential in any area. He's not a lethal finisher like Icardi. He's not particularly fast or particularly...

forzainterforums.com