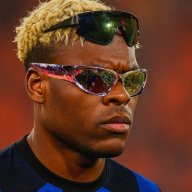 La Grande Inter
La Grande Inter
Joined

Mar 3, 2009
Messages

16,585
Likes

2,193



10 years of FIF
What analysis do you want? Grandpa Dzeko has scored more than Lautaro in CL. Out of form Lukaku has actually scored more. It's embarrassing for Lautaro. Lautaro isn't a creator so scoring is definitely a part of his job. His high work rate isn't enough to save him from criticism. There's nothing else to add really.
Dude, I'm not pointing individual stats in this regard. I meant, that Inter in overall has been shockingly bad over the past few years in CL, and this is the first time since 2011 that we are reaching quarter finals. As a group we were prone to failures. For example, you have quite a few fiascos in the league as well despite that Lautaro has scored a bunch of goals and also has good stats in overall, but then again my point is that Inter as a team in overall is just garbage.
I never highlighted his work-rate as a single attribute to his contribution for this team. The guy just does so many things other than putting efforts. He has great technique and also tends to create chances on his own, then has improved in physical aspect of the game and so on.
"Dzeko has more goals than Lautaro in CL. Out of form Lukaku has scored more." These lines are just enough for me to skip and never discuss with you anymore. Each to his own.