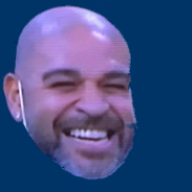 La Grande Inter
La Grande Inter
Joined

Mar 20, 2007
Messages

10,214
Likes

3,981
Favorite Player

Hakimi



10 years of FIF
Ciao Lucky Luciano
Yes, he truly lives up to his name! Lucky Luciano after all the miracles pulled by Handanovic. Lucky to have Milan, Roma & Lazio in shit displays, also underperforming.
Will he resign?
Why would he do that and lose ~€20m in compensation?!

He still has a contract, longer than should. Sacking him would be management admitting extending his contract was a mistake in the 1st place.
"I'm sorry for Empoli, I have ties and friends there. They certainly deserved to stay up, but we also deserved to reach the Champions League.

"When decisions are made, everyone reacts in their own way. Problems come when situations leave you hanging on, not when you face them.

"I don't know if I'll leave Inter. Conte was called into question at Juve after the game against Ajax."

The former Roma boss was then reminded the Bianconeri had parted with Max Allegri...

"But Agnelli said at a Press conference the next day that he wouldn't touch anything and then made a change.

"For me, you can learn from that behaviour. But I'm in the perfect role that I want to be in and I'm behaving the way I want to. I'm calm."

Spalletti seemed almost to acknowledge the situation in his post-match Press conference.

"The club will talk now and I will listen, just as you will. I would be happy to remain at Inter. The papers have had the same headlines for three months, so we'll see what happens."
*** seems to have taken another swipe at management here:
He also referenced the chaos after Mauro Icardi was stripped of the captain's armband, then there were negotiations behind the scenes with lawyers before he'd resume full training.

"In my view, what you need to do at a big club like Inter is not go back on decisions once they are made. That causes complications, because you are no longer consistent or believable.

"If you make a decision, deal with the fallout and then change it again, you're creating three problems."