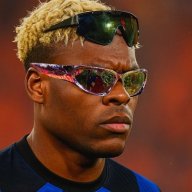 La Grande Inter
La Grande Inter
Joined

Mar 3, 2009
Messages

15,572
Likes

716



10 years of FIF
I think Brozo is the VERY least of our problem. He is intelligent enough to be part of winning Inter, of course if we are about to build a winning side which requires a couple of more quality players. He tends to make stupid mistakes at times but then again I cannot blame him because he is playing with a bunch of rubbish players around him, or cowards who run away from responsibility. Of course I'm talking for the midfield department.

For example, I don't think Barella is able to pull them amazing through balls or hold the ball as good as Brozo does even though they are kind of alike players in term of stamina and fighting spirit. Sensi is a more dynamic player, also able to past opponent players and also score goals but Brozo is fundamental for us.

He would still be a part of my ideal Inter tbh. We just need to bring in top quality players to strengthen our team in overall.