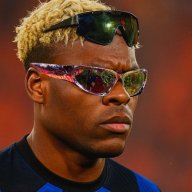 La Grande Inter
La Grande Inter
Joined

Mar 3, 2009
Messages

17,738
Likes

4,165



10 years of FIF
Ibra more complete than Eto´o? You´ve got to be kidding mate. I won´t claim any of the two is the better player overall, because both have quite different characteristics, but let´s just say Samy´s track record even back then proved that he was at least just as prolific a goal-scorer as Ibra was, and he was also a great assist provider, too (just of the top of my head, in the winning 05-06 CL campaign he was the top assistman).

Yet, Mou actually played him out of position as an inside forward most of his first season, and he adapted extremely quickly. Even though we´ll never know, it is quite unlikely that Ibra would even agree to play in that role, and even less likely he would excel in it.

All that undermines your take about Eto´o being less complete as a player. Eto´o was not in any way inferior to Ibrahimovic, he was a like-for-like exchange that even back then everybody considered a total steal, considering that we got a twice CL winner and the most recent CL final goalscorer for a flashy striker who failed to deliver in CL + 45 mil or whatever we got on top.
I said "maybe" which means some circumstances could give him an edge over Eto'o, but it's still very difficult to compare their influences since both had incredible impact on team's success. We played different style with Ibra compared to 09/10 season with new arrivals in attack.
My point was something else though. But even that, as much as I can't stand Ibra for his shitty character, on his prime I think he's slightly better than Eto'o.
Eto'o was more of a team player while Ibra was more of an individual brilliance.