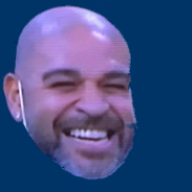 Joined

Mar 20, 2007
Messages

9,585
Likes

3,043
Favorite Player

Hakimi



10 years of FIF
Welcome Matteo! Darmian will sign a
four-year
deal with a salary of €2m per season.
Hate is part of football. Forums wouldn't be entertaining without negativity.

However, this forum is consisted of many members with different opinions. People who want Candreva out for example, isn't necessarily the ones who bitched about him being sold for 3m. Imagine every members of this forum have the same opinions like:

Member 1: Yeah we get Darmian, lets wait and see what he can do. I'm excited! Forza Darmian.

Member 2: Agreed. Cant wait to see him in action.

Member 3: He has nice facial hair anyway.

Member 1: Yeah agreed, very stylish.

Member 4: How's Darmian being doing lately?

Member 2: Let's wait and see! It's too early to judge hahaha

Luka: Of course he will do well under the guidance of the best coach in the world, Conte! Good job Marotta for getting the job done for Conte

Bluenine: Agreed. Forza Inter!!
This is more fiction than SMS @ Inter

Wishful thinking at best :rollani:
Remind you, he most probably will rage quit in mid or end of the season. If he doesn't, well good for him so he can continue with Inter project. Fucking benchoted sheeps

I keep reading this "opinion" here on FIF so let me clear this once and for all: I dare to say Conte is probably NOT going to rage quit. Reasons:
1. He OWNS Steven, kid is eating from his palm. Taking over the transfer strategy shows how much power he has in the club - so he enjoys being here.
2. By far biggest payed coach in Itally, would be silly to walk away from such an insane contract.
3. This team has Conte written all over it, basically cherry picking his squad. What top club would allow him such thing? How many hundreds of millions he would need to transfer them again?

4. How many times do you think he can pull that kind of shit rage-quit shit anyway? It can happen once or twice, but if it becomes a pattern, nobody serious enough will offer him a job.
5. Let`s assume he does pull that shit, where should he go? His family wants him to stay in Italy and he is already in conflict with Agnelli. Suddenly, not so many options left, eh?
So I would rather say there is a possibility for that, but seeing how things are going, he is set to stay for at least until his contract runs out - like it or not.
[youtube]9RIzMUgoEkA[/youtube]
Hope he is better at positioning on the pitch than in a car