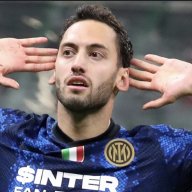 Prima Squadra
Prima Squadra
Joined

Jul 31, 2019
Messages

921
Likes

843

This

Our hands are bound as we are not getting good enough offers for Pinamonti and Skriniar, so no Bremer.

Also it seems like Sanchez is asking full salary for a termination his contract, so this might drag on for end of the merecato? But even if Sanhez was out last month, I think it was pretty clear that it was either Lukaku or Dybala? Inzaghi and managment chose Lukaku.

Maybe if Dybala agent would not asked that huge comission fee start of the window/our first offer to him, we would got him? But Lukaku opportunity came up and we took it.

Now our merecato got lot harder cause we don't get good offers for our players and Bremer is gone! There are limited market for good cb's and their prices are high.

So I think it will be Bastoni-De Vrij-average player.

De Vrij might get a new contract offer?
Although I agree with some of this. The Bremer fiasco doesn't explain why the decision makers didn't move quickly.
If Inter is going to buy players and sell them at their peak, than Bremer was one of those players.
He would have come for 1-2 seasons and been sold for 70+million.
What is not sustainable for Inter is making stop gap purchases that won't make it. Kinda like the situation now. Whose going to replace Skriniar and De Vrij? Young prospects - ok great- but they likely wont generate the big money within 1-3 years.
So this Current Inter is not working towards its interests when misses on opportunities like Bremer.